How to recover a Laptop Battery Fuse 12AH3 (4 pins type)
138 would be a good choise but i prefer to use sticks, with paste it's hard to control the flow.
Using regular 60/40 is also an option, not ideal but still works if nothing else available.
Posted : 22/11/2021 4:17 pm
@torture Hi,did put solder across pin 1 and 3  but how about pin 2? its hard to see on the picture, pin 4 is left unconnected?
Thanks
Posted : 23/11/2021 8:32 pm
Which pins do you consider 1,2,3,4?
What is hard to see on the photo i even made it under the microscope?
Posted : 23/11/2021 8:40 pm
Posted : 23/11/2021 9:28 pm
If you like to refer to this datasheet restore the connection between pins 1 & 3 and that's it.
Posted : 23/11/2021 9:35 pm
you forgot to add the 3 leged fuse diagrams
I don't think so. How about you search first?
Posted : 24/11/2023 10:50 pm
How about this one?
While trying to recover, it activated and became very hot until the heater below the soldering was vanished.
It is a 3 pin fuse D6SC312A
This is before the melting: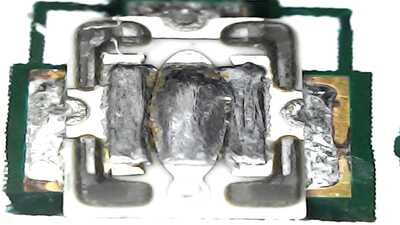 Is it safe to recover using a 12A wire? Between 1 and 2 and also connect the middle to 3 ?
Posted : 02/12/2023 9:26 pm