Can't detect DJI Phantom 3 battery chip
Hello, can someone please help. I connected up my EV2400 to a Phantom 3 battery but I can not get the software to read anything. I know the EV2400 and NLBA is good as I can use it to read a Mavic Pro battery. Please see pics. Any help is greatly appreciated !! Thank you !!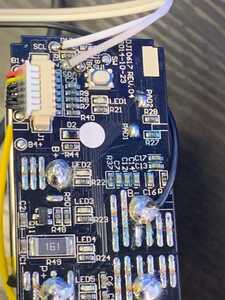 Topic starter
Posted : 22/01/2023 7:22 am
It is DJI0617 PCB Revision. Smbus located on the opposite side and marked as GND, SMBC, SMBD testpoints. 
 SCL and SDA points you have connected to are Tx, Rx signal lines of battery UART interface which is used for communication with a drone. 
Posted : 22/01/2023 10:13 am
Ah, thank you very much !! I will give that a go !!!
Mike
Topic starter
Posted : 23/01/2023 3:58 am
Hello Mate. Did you manage to connect to the P3 battery? I am having the same issue and using the correct pads on the bottom. Cheers
Posted : 04/09/2023 5:12 am
Do you have our NLBA1 DJI Reset License ? Post a picture with the software.
Posted : 07/09/2023 6:01 am