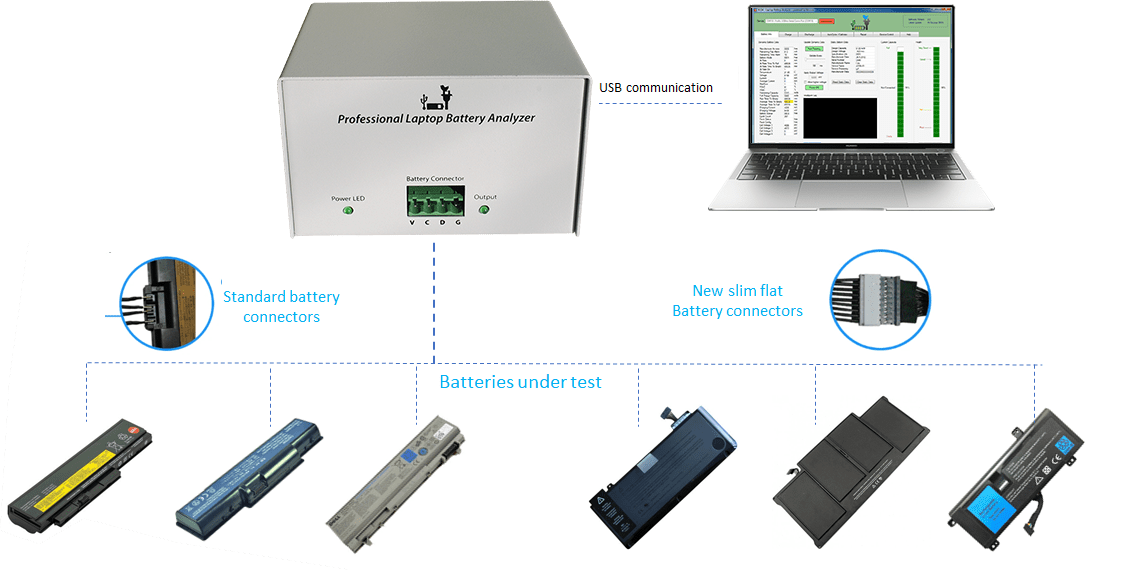 Major Features
Testing
Charging
Discharging
Calibrating
Cells Check
Reset/Repair
Latest Features Added in 2021
Pinout Detection
Lock Status
Functional Test
Test Report (PDF)
Support
Safety Features
Protected Communication Wires. Data lines are protected against any kind of short between data lines or between data lines and power lines.
Over Current Protection. The device disconnects the power path in case the charging/discharging current exceeds 3.0 / -3.0 Amps.
Over Temperature Protection. If the heatsink temperature sensor reports a temperature higher than a safety threshold the current is decreased.
Built-in Microcontroller. A high-performance microcontroller monitors continuously internal battery sensors and reacts in a very short time.
Reverse Battery Protection. The device is protected in case the power lines are accidentally reversed and it recovers immediately once the error disappears.
Diagnosis interface. Our PC Software offers an interface to diagnose the tool, to read the temperature sensor, turn the FAN, set output voltage or even to read error memory.
Intelligent FAN Control. The speed of FAN is adjusted based on the heatsink temperature keeping the noise as low as possible.